When to replace a viscous damper
Choose high quality Vibratech when it's time.
A worn out viscous crankshaft damper will not protect from torsional vibration which will lead to costly engine damage and downtime. That's why regular viscous damper replacement in heavy-duty applications is critical to longer engine life. While recommended replacement intervals vary depending on engine manufacturer, the average is about 500,000 miles / 15,000 hours or at major overhauls and in-frame rebuilds.
REGARDLESS OF miles or HOURS, REPLACE IF:
There are any signs of abuse or dents to the outer housing.
There are any leaks around housing weld.
There is bulging of the housing cover.
There are any vibrations in the engine.
SIGNS OF VISCOUS DAMPER WEAR:
Excessive bearing wear
Broken crankshaft
Broken camshaft
Accessory drive gear wear
Broke accessory brackets
Loosening or broken bolts
Throwing or slapping of belts
Loss of torque and horsepower
Loss of fuel economy
Damper housing damage
Driver fatigue
Vibratech TVD has been a supporter of the American trucking industry for over 70 years.

NOTE
Replacing or servicing a worn out damper does not correct damage already done from abuse, but it will help protect your rebuild investment, contribute to overall operating efficiency and prolong engine life.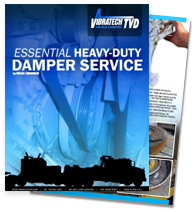 VISCOUS DAMPER SILICONE FACTS
Silicone is an excellent damping medium due to its high energy dissipation.
Silicone in a new damper is approximately 45,000 times thicker than 30w motor oil.
Protects across a broad range of rpm and frequency ranges.
Normal operating conditions will cause silicone to gradually harden over an extended period of time in heavy-duty applications.
If not replaced at the recommended interval, silicone could eventually polymerize into a solid paste and lock the internal inertia ring.
Truck service centers, fleet maintenance shops, diesel engine repair facilities, and engine remanufacturers all trust Vibratech replacement dampers.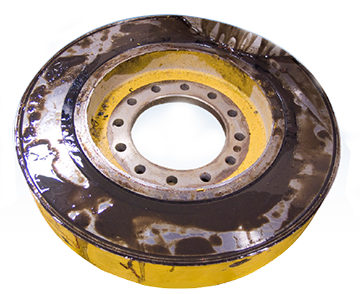 This O.E. damper was not changed during rebuild.
This lead to engine failure within two months. Dark patches indicate worn out silicone.