Viscous Dampers
Crankshaft • Camshaft • Driveline • Electric Drive
Vibratech TVD (formerly Houdaille) pioneered the viscous torsional damper in 1946.
Since then, it has become widely accepted in commercial and industrial powertrain applications. It is proven to be far more durable than elastomer damper designs under high temperatures and extreme environments. It is more cost-effective than a spring damper. Some industrial Vibratech TVD dampers may be rebuilt or remanufactured to lower an engine's lifetime ownership cost.
Design engineers and field technicians specifically choose a Vibratech TVD viscous torsional damper for its:
Vibration damping effectiveness and efficiency.
Superior product durability compared to elastomer dampers.
High temperature & harsh environment capabilities.
Low cost of ownership over time.
Vibratech TVD dampers are completely manufactured in the USA. Quality systems are ISO 9001:2015 certified. The company is also ITAR registered for defense contracts.
The Problem: Torsional Vibration
Torsional vibration is the end-to-end twisting and rebounding of a rotating shaft. It can be caused by internal combustion force on a crankshaft, applied torque on a camshaft, or start-stop of a PTO or electric drive. Uncontrolled torsional vibration can lead to excessive NVH, premature wear, or failure.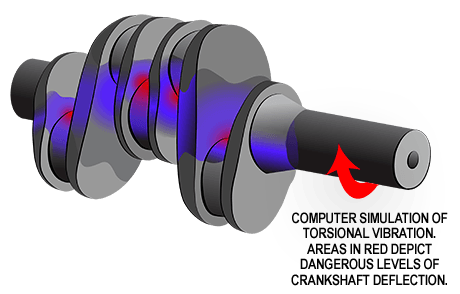 The Solution: Vibratech TVD's Viscous Damper
A Vibratech TVD viscous damper is a cost-effective approach to protect the powertrain by converting torsional vibration into thermal energy. Inside the damper an inertia ring shears through a thin layer of viscous silicone. The silicone fluid is not bonded and acts as a soft spring. The amount of force and rate of velocity change will exponentially reduce the magnitude of vibration.
Vibratech TVD (formerly Houdaille) invented the torsional viscous damper in 1946 [ View Patent ]. The primary purpose then was to provide durability to commercial diesel engine applications. Today we offer the broadest powertrain application experience and lead in cross-industry innovation.
Vibratech TVD continuously invests in advanced manufacturing and quality assurance. Our commitment to collaborative efforts and building long term relationships enables over 30 leading global OEMs and Tier 1 powertrain partners to exceed their durability goals.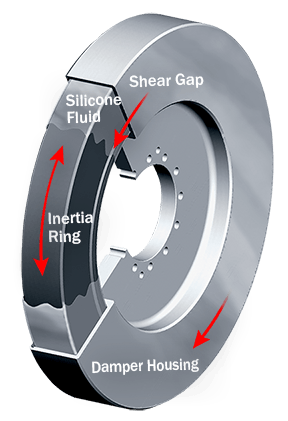 Engine manufacturers are challenged to deliver emissions-compliant, quieter and more fuel-efficient powertrains without sacrificing performance and reliability. In turn, higher cylinder pressure creates greater torsional vibration force on the crankshaft. A Vibratech TVD crankshaft damper is an essential component to maintain durability standards.
Crankshaft Damper Remanufacturing
Large heavy-duty diesel engine crankshaft dampers may be designed and manufactured in a way that allows for re-manufacturing.
Our DAMPER REMANUFACTURING programs helps OEMs and field service centers achieve environmental goals and reduce overall operating costs while maintaining their engine's life and productivity.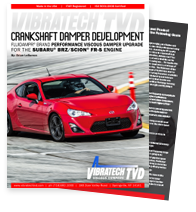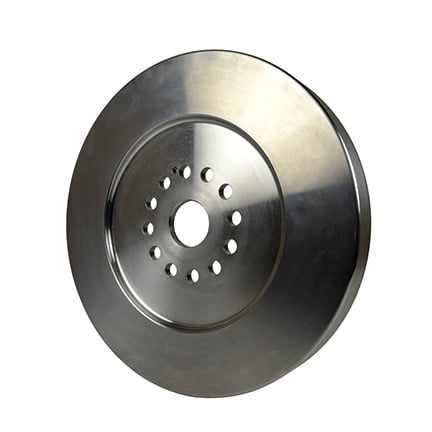 Vibratech TVD camshaft dampers are designed in conjunction with OEM engine development to reduce valvetrain NVH and improve timing. Viscous torsional dampers are available down to a 3" outer-diameter and feature a hermetically sealed housing. Flanges, gear and pulley options can be integrated into the outer housing. No damper maintenance is required and it can be designed to last the life of the engine in most applications.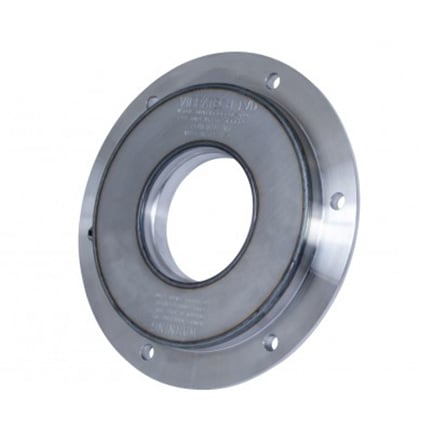 Rotating shafts present a NVH challenge. Speed fluctuations create torsional vibration that can damage downstream components or create uncomfortable noise conditions. To resolve concerns manufacturers turn to Vibratech TVD for our expert torsional vibration analysis, design integration, engineering and demanding product validation.
OEM partner project examples:
Hybrid transmission drives on buses.
Fire engine piston driven water pump shafts.
PTO shaft accessories.
Auxiliary starter shaft drive gears.
In each of these examples Vibratech TVD developed a tuned viscous damper specific to the driveline application with the goal of improving durability and overall quality. A narrow frequency band coverage with a viscous damper is achieved through our ability to fine tune and hold precision machining tolerances in combination with proprietary silicone selection.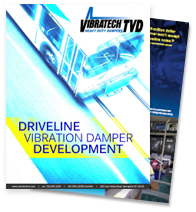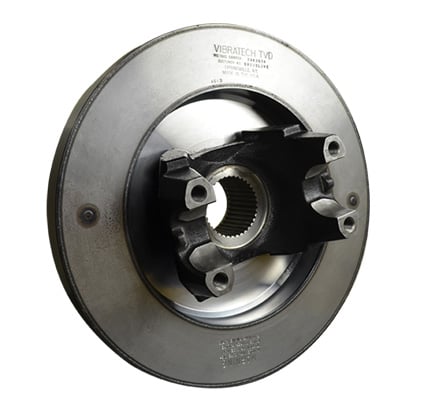 Full-electric and hybrid drive vehicles face new torsional vibration challenges. Instant full-torque induction creates stress on a driveshaft and induces unwanted NVH from backlash against the drive gears. Incorporating a torsional viscous hybrid drive damper is a cost-effective, long term solution.
Vibratech TVD has collaborated with leading world transit bus manufacturers to resolve NVH through developing optimized narrow frequency driveline dampers. As more passenger and off-highway vehicles adopt the efficiency of hybrid and full-electric drives, Vibratech TVD is experienced and capable of adapting a driveline viscous damper to new configurations.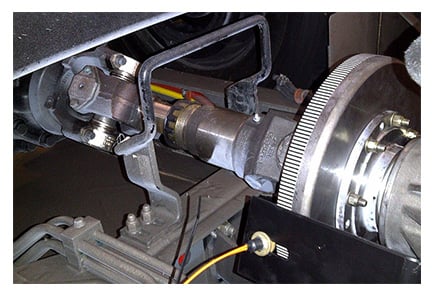 DAMPER DEVELOPMENT PROCESS
Early collaboration with Vibratech TVD saves time, provides flexibility and can integrate parts. Get this quick reference guide and begin to plan torsional vibration control into your next project.
Quick reference guide includes:
Vibratech TVD Design Process Flow.
Four Guidelines To Consider When Integrating A Torsional Damper.
Helpful Equations.
We're here to help. Building a relationship now with our engineering team leverages 70+ years of torsional viscous damper development experience.