Defense
When failure is not an option, the Defense industry chooses Vibratech TVD dampers.
Vibratech TVD is a Source Inspection Certified and ITAR registered company. Through Department of Defense contractors and brokerage agents we manufacture crankshaft, camshaft and driveshaft viscous dampers for a variety of military vehicles. To uphold these international contracts, Vibratech TVD exceeds strict quality, dependability and delivery standards.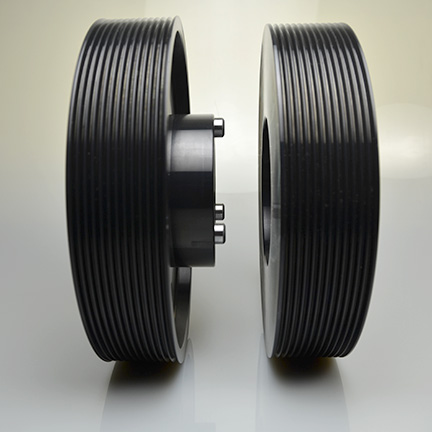 OEM Diesel engine mfg.
Challenge: Design, develop, and manufacture a highly durable crankshaft viscous damper for use in a high performance diesel engine military application.

Our Solution: Worked in collaboration with OEM engine manufacturer and all stakeholders. Conducted torsional vibration analysis, modeling and prototype development. Successfully passed all United States military validation testing. Implemented manufacturing ramp up and strict quality control processes to fulfill long term defense sub-contract.
DUNS #: 878 183 979
CAGE CODE: 6KAK6
PREVIOUS CAGE CODE: 74480
Militaries around the world depend on the reliability and dependability of the equipment they use. For 70 years Vibratech TVD has been chosen by major defense contractors to protect our troops. Vibratech TVD viscous dampers are the first choice for Army, Navy and Marine applications for their proven reliability when failure is not an option.
NAICS DESCRIPTION
322722: bolt, nut, screw, rivet and washer manufacturing
332116: metal stamping
332313: plate work manufacturing
332322: sheet metal work manufacturing
332323: ornamental and architectural metal work manufacturing
332439: other metal container manufacturing
332510: hardware manufacturing
332710: machine shops, turned product and screw, nut and bolt
332721: turned out product and screw, nut and bolt manufacturers
332722: bolt, nut, screw, rivet and washer manufacturing
322812: metal coating, engraving and allied services to manufacturers
332813: electroplating, plating, polishing, anodizing and coloring
332995: other ordnance and accessories manufacturing
332996: fabricated pipe and pipe fitting manufacturing
332999: all other misc. fabricated metal product manufacturing
333314: optical instruments and lens manufacturing
333399: all other misc general purpose machining manufacturing
333514: special die and tool, die set, jig and fixture manufacturing
336312: gasoline engine and engine parts manufacturer
336991: motorcycle, bicycle and parts manufacturing
336999: all other transportation equipment manufacturing
Product Development
Vibratech TVD is your trusted partner for new and existing diesel, gas engine and driveline military applications that demand superior torsional vibration control. From concept through production, our experienced team works together with defense contractor powertrain engineers to deliver application designed results utilizing the latest technologies. To achieve continuously evolving high levels of quality, both our design and development and quality systems are ISO 9001:2015 certified.
Vibratech TVD is ITAR registered. Vibratech TVD dampers feature 100% American content.
Privately owned, rural United States business
U.S. sourced materials
Source inspection certified for major defense contractor
ITAR Registered
110,000 sq.ft. facility
Engineering – Computer Aided Design / Finite Element Analysis / Solid Works Simulation / Torsional Vibration Analysis / Rapid Prototyping
Quality Assurance – ISO 9001:2015 Quality System Certified / Direct Input Data Collection / SPC / Coordinate Measuring Machine
Post Processing – Metal Joining / Finishing / Assembly / Rapid Prototyping
Equipment Overview
LATHES
28 CNC Lathes , 1/16″ to 24″ capacity, live tooling & sub spindles
10 Manual lathes, up to 32″ swing
MILLS
22 CNC mills, up to 20″ x 40″ parts

11 manual mills, horizontal & vertical
WELDING
Laser / Robotic / MIG / TIG / Sub Arc / Stick
2 Robots, machining & welding
6 Automated Balancers, up to 24″ capacity
3 Broaches, up to 8′ stroke

SPECIALTY
2 Sunnen® Hones, up to 3″ diameter
5 Automatic saws, band saws up to 14″ round, ferrous & non-ferrous cold saws
2 Niagara® punch presses, A4 and A3
1 Gear hob, barber coleman 6-16