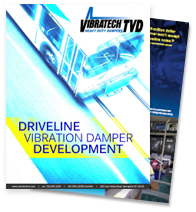 Driveline vibration damper development
Vibratech TVD is an established leader in developing and manufacturing driveline dampers for the bus industry. Drivelines present a unique NVH challenge. In recent years, this need has steered Vibratech TVD into also developing torsional viscous damper solutions for new hybrid drives, fire engine piston driven water pump shafts, pto shaft accessories and even auxiliary starter shafts.
Reading this article will enable you to:
Learn the difference between a Vibratech TVD driveline damper and crankshaft damper.
Know the benefits of a viscous driveline damper over conventional tuned elastomer damper designs.
Understand Vibratech TVD's rigorous ISO 9001:2008 Design and Development certified process.
See the potential of a Vibratech TVD driveline damper through a hybrid bus application case study.