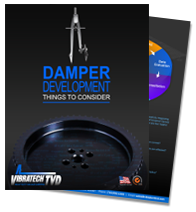 Damper Development: Things To Consider
Early collaboration with Vibratech TVD saves time, provides flexibility and can integrate parts. Submit the form, download this quick reference guide, and begin to plan torsional vibration control into your next project.
Quick reference guide includes:
Vibratech TVD Design Process Flow.
Four Guidelines To Consider When Integrating A Torsional Damper.
Helpful Equations.
We're here to help. Building a relationship now with our engineering team leverages 70+ years of torsional viscous damper development experience.