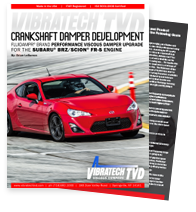 Crankshaft damper development
Fluidampr® Performance Viscous Damper Upgrade for the Subaru® BRZ / Scion® FR-S.
Follow the development and validation of a new Fluidampr® brand viscous damper by Vibratech TVD for the 2.0L opposed four cylinder Subaru FA20 / Toyota 4U-GSE engine. Fluidampr viscous dampers are one of the leading crankshaft dampers in the performance aftermarket and are used extensively in street applications to professional motorsports.
Reading this ebook will enable you to:
Understand Vibratech TVD's rigorous ISO 9001:2015 design and development certified criteria.
Realize the potential of a small diameter viscous crankshaft damper.
Compare torsional vibration and dynamometer test results between the stock tuned elastomer damper, an un-damped aftermarket lightweight pulley, and the Fluidampr viscous damper.